Do It Afraid
"You may be 38 years old, as I happen to be. And one day, some great opportunity stands before you and calls you to stand up for some great principle, some great issue, some great cause. And you refuse to do it because you are afraid…. You refuse to do it because you want to live longer…. You're afraid that you will lose your job, or you are afraid that you will be criticized or that you will lose your popularity, or you're afraid that somebody will stab you, or shoot at you or bomb your house; so you refuse to take the stand.
Well, you may go on and live until you are 90, but you're just as dead at 38 as you would be at 90. And the cessation of breathing in your life is but the belated announcement of an earlier death of the spirit."
— Martin Luther King Jr.
Today I am inspired by these timeless words of Martin Luther King, Jr. I ask myself if I am holding back.
Do I resist doing 'hard things' because I am afraid or because I am afraid of what others may think or say about me?
I have to admit that there are things I have been afraid to do, and I pray God will strengthen my resolve to do the "hard things" by His strength alone without stopping to count the costs.
Is there something that
you
want to do?
that you feel
led
to do?
that is the
right
thing to do?
Is it hard? Is it unpopular? What will people say? What will your friends say?
…. Does it matter what they say?
Take that step and do it, even if your palms sweat and your knees knock until you are barely standing.
You only get one opportunity to live your life.
Afraid or not, live it! Don't look back with regrets, and "what if's".
Move forward, no matter what the cost.
I'm talking to me.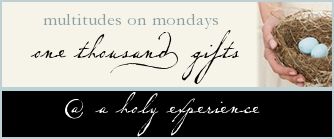 I'm counting gifts with a heart of gratitude. Join me?
This was posted by my OOOOBER special friend, Melanie at Only a Breath...
I mentioned I was going to be making a Change...Which NOW I would like to call it an ADDITION to my blog...Well~ This is a BIG HINT!
PLEASE visit Melanie at "Only a Breath"...Her button is on my Left Sidebar...She is an
A-MAZ-ING gal and PRECIOUS FRIEND!
I would LOVE for you to leave me a Comment on ANYTHING you are GRATEFUL to God for! If you do not want to Share...NO WORRIES! This is NOT to put ANYONE in a UNCOMFORTABLE position! I want this to be A JOYFUL thing...anything to
Refresh Our Spirit!
AND...HEY! Im STILL gonna be ME...GOOFBALL and ALL! Thats just me...Who God made me to be! He had to make SOME of us GOOFBALLS, right??? No Doubt!
I am GRATEFUL to God for Bringing SOOOO MANY Amazing and truly Special friends to me in Blogland! Its ALL OF YOU that INSPIRE me to do more and more things to share with you!
I TRULY LOVE and APPRECIATE every single person that visits my Blog! YALL are why Im here!
NOW! If God could just help me figure out a SYSTEM to getting ALL my visits and Commenting to all of you...I would be EVER SO GRATEFUL for that! WHEW! Its TUFF to keep up to speed! I do LOTS of visiting BUUUT, am POORLY lacking in the commenting department! YIKERS!
Again! I am Grateful to God for all of you!
What are you greatful for???
ON to Whassup Wednesday!!! WoooHoooo! Lets Par-Tay! {Thanks for that one Becca}